BONUS BALL WINNERS - MAY 2018
FELBRIDGE WIN NICHOLAS SOAMES TROPHY 2017
A total of 19 teams took part in the 12th annual Nicholas Soames Trophy competition. Felbridge won by four shots overall after a tense final that went down to the last bowl.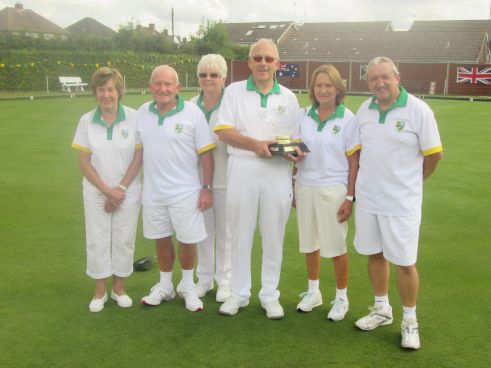 L to R:Pat King, Brian Farley, Pearl Hathaway, Andrew Hathaway, Clare Budgen, Grahame Thomson.
Photograph shows both teams Burgess Hill & Felbridge after the Presentation of the Trophy.
Although Felbridge won the final with the six players shown above, the journey to the final was achieved using a squad of players, all of whom contributed to the success of the club reaching the final. Most of these players are pictured above. Carol Templeman (holding trophy) organised, played and selected the teams over the season. The players are:-
L to R: Frances Middleton, Sally Knight, Roger Middleton, Anne Yarranton, Pat King, Colin Brewer, Carol Templeman, Bernard Freear, Grahame Thomson, Brian Farley, Pearl Hathaway, Andrew Hathaway.
*
The Olive Grove Friendship Trophy.
2016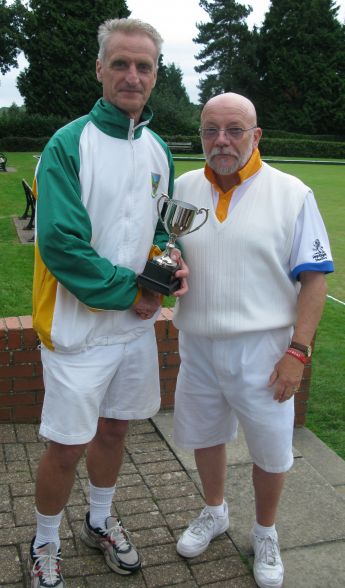 Phil Bowers our Club Captain receives the Olive Grove Friendship Trophy from Mike Bushell, captain of East Grinstead.
The cup is played for over two legs during the season, to give a edge to a friendly competition and also as a bond between local rivals.
This year (2016) Felbridge won the home tie 154 - 78 & the away tie 118 - 78.
2015
Felbridge 268 - 121 East Grinstead.
2016
Felbridge 272 - 156 East Grinstead.
The cup will be played for annually.
~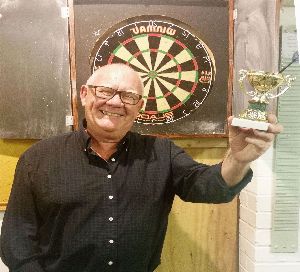 Colin Brewer, Ladder League Darts Champion 2017.
~
Our new shirts are priced at £20
Baseball Caps - £3.
Please contact Frances.